Laboratory and Process Analyzers
Demulsibility and Foaming: Demulsibility Characteristics of Lubricating Oils • Foaming Characteristics of Lubricating Oils • Foaming Tendencies of Engine Coolants • Herschel Emulsifying
---
Foaming Characteristics
of Lubricating Oils
ASTM D892
DIN 51566
IP 146
Foaming Characteristics of Lubricating Oils.
This test method covers the determination of the foaming characteristics of lubricating oils at 24°C and 93.5°C. Means of empirically rating the foaming tendency and the stability of the foam are described.
---
LT/FB-192000/M
Semi-automatic Apparatus for Foaming Characteristics of Lubricating Oils – 4 places
Bench top instrument with metallic case structure painted with anti-acid products and double chamber insulation, top cover made in stainless steel with four holes for the cylinders accommodation and one hole for control thermometer (not included).
2 × independent 25 liters capacity stainless steel baths (one for 24°C and one for more than 93.5°C) equipped with viewing and illuminated windows, two independent motor stirrer grants uniformity and stability of bath temperature.
Stainless steel grid divide the glassware from the heating and stirring device.
Air pre-heating system by copper coils immersed in the first bath.
Lateral stand-by support for stoppers and diffusing assembly.
Anti-floating and centring system for test cylinders.
Control unit include 7" Touch screen panel PC with 800 × 480 resolution with dedicated Lin-Tech software able to manage the bath functions:

Independent management of 4 places analysis trough the activation of air micro-compressors and counter (time of blowing, waiting time, flow) – audible alarm for each intervention of the operator requested.
Air flow monitoring system (flow rate) managed digitally and calibrated.
Diagnostic panel for temperature calibration, air flow, analysis parameters.

Removable back panel equipped with drain tap for easily empty and clean the baths.
Baths are thermo-insulated equipped with tempered glass window inside for easily cleaning the limestone or oils residue, second protection panel made of plastic material with optical transparency.
4 Places Apparatus including: 4 diffuser stones (not certified), 4 rubber stoppers, 4 air diffuser tubes, 4 graduated cylinders.
Dimensions (cm)
Width 71
Depth 40
Height 67
Power Supply
Accessories
LAB-101-883/C: certified diffuser stone
LAB-101-886: flow indicator calibrating device, digital display readout, AA battery supply power / 230 Vac power connection, flow mass up to 500 L/m
LAB-101-887: Mott metal cylindrical diffuser (tested and verified) – ASTM D6082
LAB-100-332: digital stopwatch
T-AS12C: thermometer ASTM 12C
Spare Parts
LAB-101-880: graduated cylinder 1000 ml
LAB-101-882: rubber stoppers, pack of 2 pcs.
LAB-101-883: diffuser stone (not certified)
LAB-101-883/C: certified diffuser stone
LAB-110-012: heaters, pack of 2 pcs.
LAB-140-002: PT100 probe
LAB-160-014: digital thermoregulator
LAB-150-015: static relay
---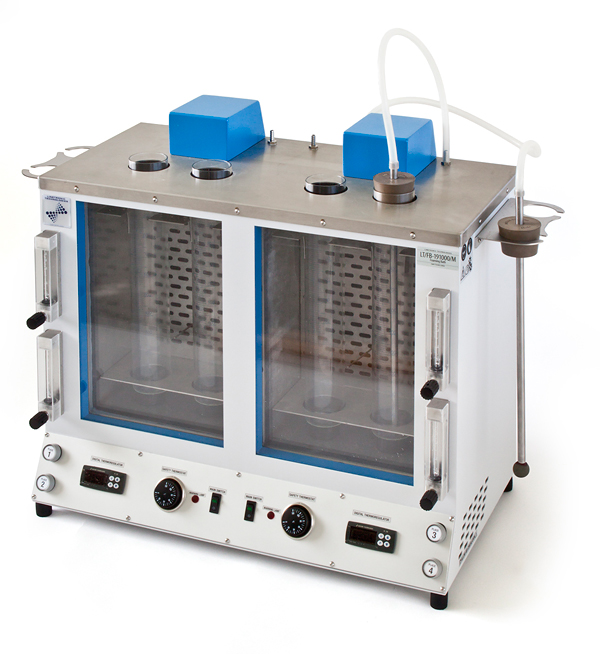 LT/FB-191000/M
Foaming Bath (4 places) - ASTM D892
Compact structure painted with anti-acid epoxidy products with 2 double standby support for rubbers and air diffuser glass tubes.
2 independent bath insulated and equipped with 2 wide double windows equipped with illuminating LED barriers.
2 drain tap.
Air coil placed into the bath at 24°C with the output placed on the left side for the air volume control.
Cover with 4 holes for the accommodation of up to 4 foaming test cylinders.
Cooling coil.
On the front the 4 flowmeter with regulating knob grant the easy adjustment of the air flow as foreseen by the method.
On the base 2 digital thermoregulator with PID (one for 24°C and one for more than 93.5°C) with over-temperature alarm and probe PT100A.
Heating supplied by stainless steel heater.
Main switch , 2 safety thermostat for overheating, 4 button to activate the 4 built in low voltage micro pump.
Motor stirrer.
Four graduated cylinders.
4 diffuser stones (not certified).
4 rubber stoppers, 4 air diffuser tubes.
Cord cable
User manual
Dimensions (cm)
Width 71
Depth 40
Height 67
Power Supply
---
LT/FB-190000/M
Manual 2 Places - Twin Foaming Bath - ASTM D 892
Tank fitted with cover with two holes 125 mm diameter which allows two cylinders to get through
Cooling coil
Heating supplied by an armoured stainless steel heater
Plate base painted with anti-acid epoxy products which houses a digital thermoregulator PID with over-temperature alarm and probe PT100A
Two independent blowing pumps connected to two flowmeters
Motor stirrer
Two flowmeters
Two graduated cylinders
Two diffuser stones
Two rubber plugs
Diffuser tubes
Accessories
LAB-101-883/C: certified diffuser stone
LAB-101-886: flow indicator calibrating device, digital display readout, AA battery supply power / 230Vac power connection, flow mass up to 500 L/m
LAB-101-887: Mott metal cylindrical diffuser (tested and verified) – ASTM D6082
LAB-100-332: digital stopwatch
T-AS12C: thermometer ASTM 12C
Spare Parts
LAB-101-880: graduated cylinder 1000 ml
LAB-101-882: rubber stoppers, pack of 2 pcs.
LAB-101-883: diffuser stone (not certified)
LAB-101-883/C: certified diffuser stone
LAB-110-012: heaters, pack of 2 pcs.
LAB-140-002: PT100 probe
LAB-160-014: digital thermoregulator
LAB-150-015: static relay
---
Linetronic Technologies SA
Via Onorio Longhi 2 • 6864 Arzo • Mendrisio • Switzerland
tel. +41 91 630 07 03 • fax +41 91 630 07 19
email: info@lin-tech.ch